Revising the documentation for the OpenSCENARIO standard for dynamic components of driving simulations
Working with parson for the next development iteration of the ASAM OpenSCENARIO standard is probably one of the best steps ASAM could have taken to increase the quality and usability of the standard. Their superb guidance to the project group on forming the content, bringing it all together and filling in the gaps have led to a much stronger set of documentation than V1.0. I hope to work with the parson team again in the next set of ASAM standardization projects to keep improving the quality of the content we release.
Goals and results
ASAM maintains and develops the open file format OpenSCENARIO, which describes the dynamic content of driving and traffic simulations. ASAM wanted to extend and standardize the existing documentation, adapt it to the ASAM document structure, and revise the documentation in terms of language.
As a service provider with many years of experience in the documentation of technical standards and information architecture, parson played a key role in revising the OpenSCENARIO documentation for ASAM. We were able to draw on experience from other projects that we carried out for ASAM, including the information architecture, terminology and writing rules defined in them.
The ASAM GitLab platform was used to collaborate with the OpenSCENARIO subject matter experts.
Our services in detail
Apply the ASAM information architecture

Standardize existing content in terms of language and structure

Document technical changes in the OpenSCENARIO standard

Create new content for the OpenSCENARIO user guide based on input from the subject matter experts

Apply terminology rules for the specification

Determine and maintain terminology
Insights
1) Apply the standardized document structure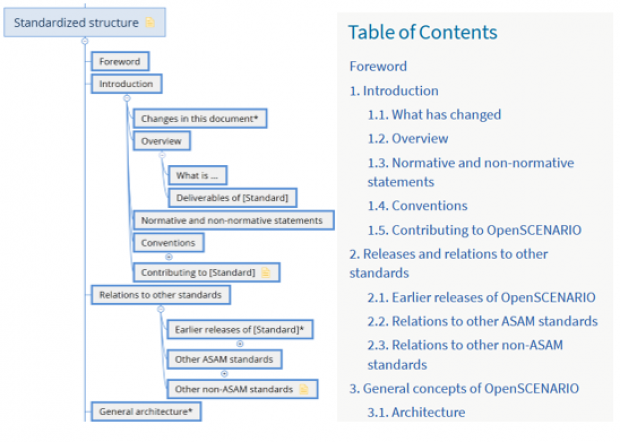 2) Write a specification topic using the developed sequence pattern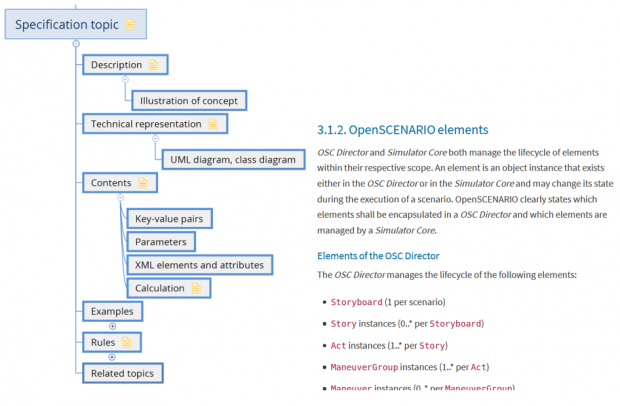 3) Apply writing rules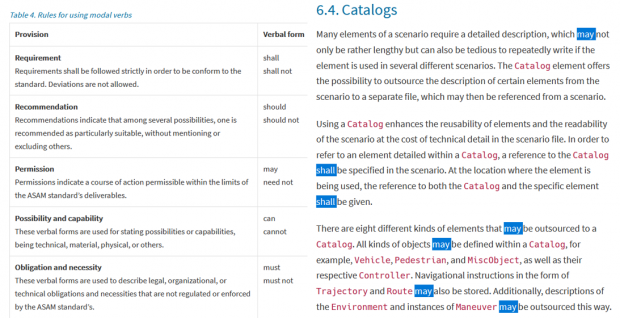 About ASAM e.V.
ASAM (Association for Standardization of Automation and Measuring Systems) is a consortium that promotes the standardization of development and test systems in the automotive industry. Members include automobile manufacturers, automotive suppliers, software producers, engineering service providers and research institutes in the automotive sector.