Adobe DITAWORLD 2023: parson as Gold Sponsor and with two presentations on intelligent content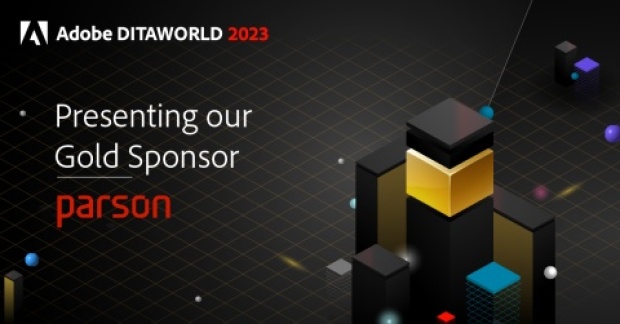 As a leading DITA ambassador, parson is happy to support the next Adobe DITAWORLD 2023 for the second year in a row as a Gold Sponsor. Taking place from June 13th to 15th, 2023, the world's biggest DITA Online Conference will bring together technical communication and marketing professionals from all over the world.
One main topic at DITAWORLD 2023 will be intelligent information. We are looking forward to the presentation of our CEO Ulrike Parson on this issue. In a second presentation, the parson consultants Frank Ralf and Lukas Jetzig will show how to implement smart content with DITA and iiRDS in AEM Sites and Guides.​
Ulrike Parson: Intelligent content for the manufacturing industry
How to digitalize content in a traditional industry 
Manufacturers face many challenges in their digital transformation towards smart factories and the Industrial Internet of Things. Generating and managing digital documentation content and product information is one of them. Manufacturers need to get from static documents to intelligent content and establish a new, digital content supply chain.
Intelligent content is required to support use cases in intelligent manufacturing, such as apps for operators and technicians, digital maintenance, and advanced resource planning.
In this session, you will learn about the features and benefits of intelligent content, how your technical documentation content is getting smart, and which standards help you implementing intelligent content. The session will include examples from different industry companies.
When: June 14th, 2023, 1:15 p.m. (PDT) / 10:15 p.m. (CET)
More about this presentation
Frank Ralf and Lukas Jetzig: From DITA to Smart Content
How DITA and iiRDS become the information backbone of the IIoT
Smart, connected products require intelligent content that is format-independent, modular, enriched with metadata, and tailored for every conceivable use case.
The DITA XML standard can provide a solid foundation for content, while the Intelligent Information Request and Delivery Standard (iiRDS) provides a standardized metadata model for technical communications content and an optimal format for delivering intelligent information.
The presentation will highlight the capabilities of intelligent content and show how to leverage the power of Adobe Experience Manager Guides and Sites to take advantage of these two standards for creating and delivering intelligent content.
When: June 15th, 2023, 11:15 a.m. (PDT) / 8:15 p.m. (CET)
More about this presentation
More about Adobe DITAWORLD 2023